Wellbeing at Westfield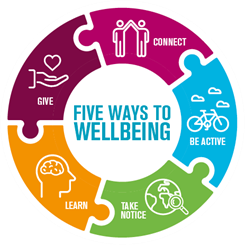 Well-Being and Mental Health are a big focus for us here at Westfield Primary School. Our newsletters have a page dedicated to well-being every month and we also have this well-being page here on our website.
Through this page and our newsletters you will be able to find out about well-being at Westfield and also useful websites you may want to visit.
As you will be aware we are going for a national Well-Being Award for Schools. We started this process in November 2018 and will complete it around February 2020. We will keep you updated with our progress.
'100 Things to do before you leave Westfield' was launched in April 2019, how are you and your child/ren getting on with completing the activities? Hopefully you had great fun ticking off the activities during the Easter holidays and the weekends since. Remember to keep it nearby and then refer to it when you are looking for inspiration about what to do—there are loads of fun ideas in it, in fact there are 100!! Don't stop there, why not think of more of your own too? If you would like a hard copy please ask your child's class teacher for one.
The activities in the '100 Things' list really fit well with the '5 Ways to Well-Being' too.
The 5 Ways to Well-Being:
1. To connect
2. To keep learning
3. To be active
4. To take notice
5. To give
With the better summer weather there really is every reason to get outside—be active and take notice.
Our Well-Being Ambassadors:
Our well-being ambassadors are all in Year 6 and their role is to promote and support well-being across the school. The five well-being ambassadors undertook training in the '5 ways to well-being', they then ran an assembly to introduce this to the rest of the children in the school. They have purple tabards to ensure they are easily recognisable if any of our children need a hand.
They help Mrs Pain run a weekly lunchtime well-being club. They also helped to review and revise our '100 things to do before you leave Westfield' activity sheet.
There is a well-being board in the hall which informs everyone about our ambassadors and the '5 ways to well-being'.
We would like to thank our ambassadors for all their hard work this year!
Useful websites:
A Million and Me:
'As part of BBC Children In Need's national programme around children and young people's mental health, we're developing support for parents and carers of 8 to 13 year olds.' Look at this website for more information:
https://youngminds.org.uk/youngminds-professionals/our-projects/a-million-and-me/
This website gives tips to parents to help their child with transition to secondary school:
https://www.place2be.org.uk/what-we-do/parent-carer-resources/ready-for-secondaryhigh-school.aspx